Embedded Computing Design and Manufacturing
Leading the world in embedded computing design and manufacturing
Over 30 years of computing design leadership
If your product needs embedded compute, but has a demanding design requirement that prevents the use of off-the-shelf modules, then Avnet Embedded is the perfect partner.
Avnet Embedded's world-class in-house design and manufacturing for embedded compute hardware means that not only do we have the world's best range of standard form-factor computer-on-modules and system-on-modules, but we can also design a custom compute solution for our customers.
Our compute technology specialists work with the world's biggest brands in demanding industries to deliver the best embedded compute solution for their products. From smart home control panels to satellites, Avnet Embedded can design the perfect solution and also manufacture it on our own production lines at our technology campuses, ensuring the highest quality, reliability and efficiency for our customers.
By working with Avnet Embedded, businesses reduce the strain on their own R&D teams and supply chains. Through using our technology specialists and our manufacturing and integration capabilities, businesses can focus on their core product design and leave the embedded compute to the experts. With over 30 years of compute design and manufacturing expertise, Avnet Embedded helps OEMs to get their product to market faster, better and stronger.
Our Embedded Computing Design
&

Manufacturing Services
Our embedded computing design services include:
Product compute requirement consultancy
Off-the-shelf-module and carrier board selection
Basic carrier board modification
Module and carrier board combination
Full custom chip-down compute design
x86 architecture design
ARM architecture design
FPGA / FPGA SOC Design
High speed design (DRAM, 10GbE, PCIe, USB3.x, frontside bus, graphics etc.)
Realtime, low latency, mission critical functionality design
OSADL testing
Thermal simulation and cooling design
Signal integrity simulation and testing
Functional simulation
Rapid prototyping
Electro-mechanical interference testing and hardening
Ruggedization
Extreme environment testing
Security hardening design
Product R&D collaboration
Operating system support (Windows, Linux etc.)
BIOS, firmware and software development
From Standard to Full-Custom Compute Design
A complete Computer-on-Module can be treated as a
functional macro and inserted into a full-custom board
design. That will shorten the development time of customerspecific
board designs dramatically, and help to achieve the
shortest possible time-to-market because the functional
macro is already proven to work, and comes with full
software and firmware support.
CUSTOM DEVELOPMENT
• Carrier board
• Single-Board Computer
• Add-on boards
• Non-standard modules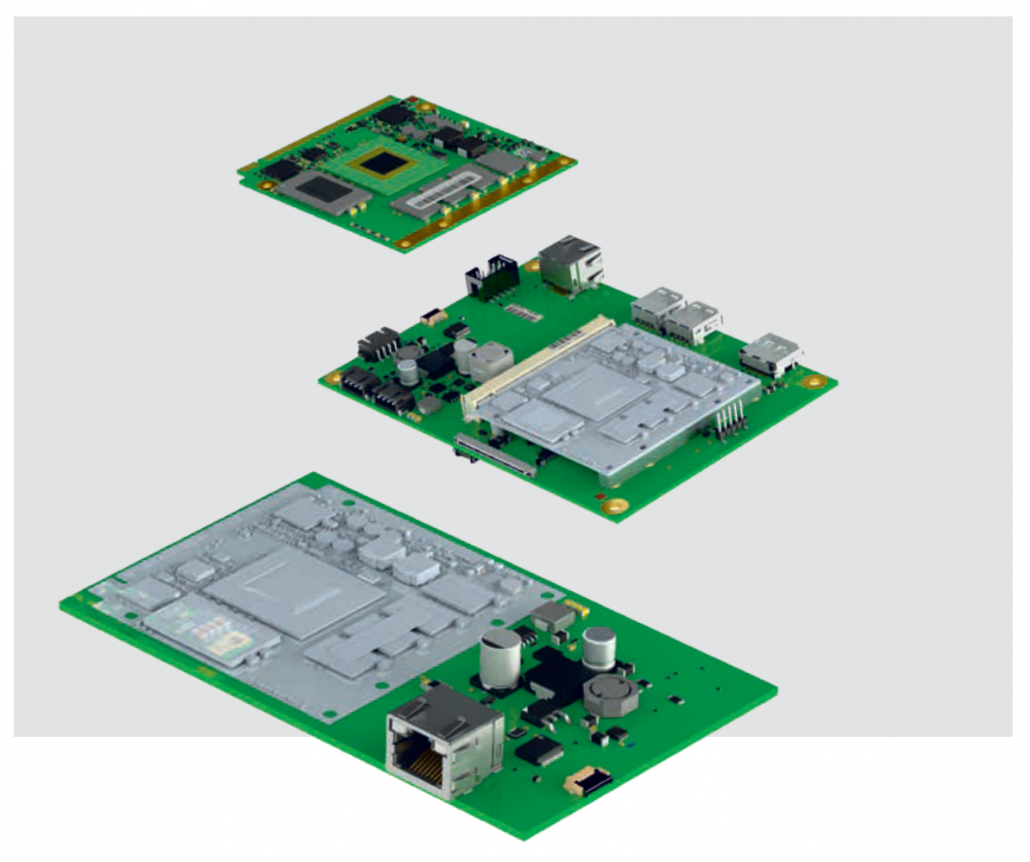 2
Standard Compute Module on Baseboard / Carrierboard
3
Compute module technology into full-custom compute design