Welcome to the SMARC Embedded Compute Standard
Avnet Embedded is the leading designer and developer of the SMARC design standard, an open-source platform for embedded computing.
Avnet Embedded's range of SMARC modules are trusted around the world for products that require compact embedded computing without compromising on processing capability. Avnet Embedded's own range of SMARC modules and carrier boards are designed and manufactured in-house at our technology campuses in Europe.
What is SMARC?
The recent revision 2.1.1 of the SMARC® module standard (Smart Mobility ARChitecture) has become the best and most future-proof standard for small form-factor embedded modules. With 314 pins available on its inexpensive and robust MXM3 connector, SMARC® has ample space for proven and popular interfaces. In the new standard revision, PCIe now features 4 lanes instead of 3, USB now covers up to 2x USB 3.0 and up to 6x USB 2.0 interfaces, LVDS now supports two independent dualchannel connections which alternatively can be used for embedded DisplayPort (eDP) or for DSI, two Gigabit Ethernet ports are now supported, Audio has independent HDA and I2S ports and up to 4 UARTs are available.
In addition to SPI, also eSPI is supported for attachment of peripheral devices on the baseboard or the application hardware. And still there are a lot of reserved pins left for future upgrades. Never before has it been so easy and natural to use Arm®-based and x86-based computer modules on a modern and up-to-date module standard.
SMARC® 2.0/2.1.1 Properties
The SMARC® 2.0/2.1.1 Standard uses the inexpensive MXM-3 connector which provides 314 pin connections. The connector is robust and proven, and there are versions available which are certified for automotive use. The edge contacts enable a low-resistance high-speed contact which is usable even for advanced signal speed up to Gigabit Ethernet, PCI-Express and SATA. The Standard defines two Module sizes: 82mm x 50mm (short size) and 82mm x 80mm (full size).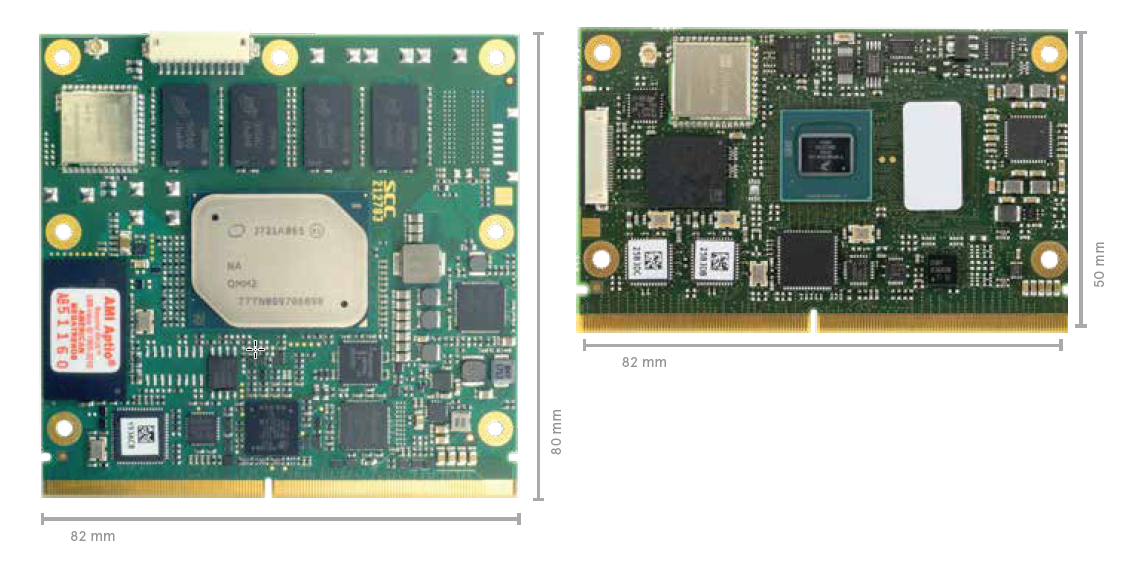 SMARC, SGeT and Avnet Embedded
Avnet Embedded is a founding member of the Standardization Group for Embedded Technologies e.V., or SGeT, the organization that manages the SMARC design standard.
Together with the other member organizations, Avnet Embedded and SGeT maintain SMARC as an open standard, empowering OEMs to take advantage of a powerful, well-researched standard that is future-proofed and versatile.
SMARC technology partners
Avnet Embedded's SMARC module range leverages technology from all major processor developers, including Intel, NXP, AMD and Renesas.
Browse our most recent SMARC modules below and click the button to browse the full range and to filter by specifications to find the perfect SMARC module for your product design. Combine your chosen module with a carrier board below to build a starting point for your design. We can customize the modules and carrier boards, and make a full custom design depending on your scale and requirements.
Browse our most recent SMARC carrier boards below and click the button to browse the full range and to filter by specifications. Carrier boards contain all the input, output and expansion capabilities, and carrier boards can easily be customized to suit your specific product requirements, whether it's adding or removing ports, combing the module and carrier into one board or changing the shape completely to fit your product.
Avnet Embedded's SMARC starter kits are off-the-shelf tools to help engineers and product designers to build a prototype of their product or solution using our SMARC modules and carrier boards. Each kit contains a standard module and carrier board. Browse our range below and get in touch if you'd like to order one (or more).