OSM – Open Standard Module
OSM – powerful embedded compute in a tiny package
Avnet Embedded is the leading developer of the OSM standard in modular embedded computing design. OSM modules are designed for the smallest possible form factor without compromise on versatility. The modules can easily be adapted to work inside products of all shapes and sizes. Browse the range below and get in touch with us to discuss how we can help you use OSM modules to empower your product design.
What is OSM?
The idea of all Open Standard Modules™ (OSM) is to create a new, future-proof, and versatile standard for small, low-cost embedded computer modules that combines the following key features:
– Fully automated processing for soldering, assembly, and testing.
– Pre-tinned LGA package for direct PCB soldering without connectors
– Predefined hardware interfaces
– Robust (shock, vibration)
For a growing number of IoT applications, this standard helps to combine the advantages of modular embedded computing with the increasing demands on cost, space, and interfaces.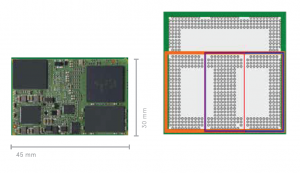 2
OSM module size configurations
OSM, SGeT and Avnet Embedded
Avnet Embedded is a founding member of the Standardization Group for Embedded Technologies e.V., or SGeT, the organization that manages the OSM design standard.
Together with the other member organizations, Avnet Embedded and SGeT maintain OSM as an open standard, empowering OEMs to take advantage of a powerful, well-researched standard that is future-proofed and versatile.
Avnet Embedded is actively developing OSM modules and adding new options regularly. Browse our current OSM modules below and fill in the contact form to speak to us about how we can help you develop your product using OSM as a starting point.